My 1.30: Managing Energy Expenditure post includes a downloadable "Energy Expenditure Survey & Plan" with step-by-step instructions. This resource guides you through tracking when, where, and how you expend your energies. I remember feeling fascinated when I composed it. It took me hours and hours, and while it was incredibly illuminating and helpful (and, I hope, helpful to others), in hindsight I see that completing the survey and plan may itself require a large energy expenditure!
I recently listened to productivity researcher Chris Bailey's interview with time management expert Laura Vanderkam. Vanderkam suggested that we predetermine options that we can choose to do during our down time. This action preps us to choose things like reading or doing a puzzle versus immediately reaching for our phone to scroll social media mindlessly. Last week, I was deep in the herxheimer reaction, which happens when your body has killed off bacteria or viruses but can't clear out the toxins quickly enough. I felt spoonless: I was experiencing intermittent dizzy spells and I had brain fog that prevented me from working on my dissertation, and my limbs felt like they weighed a hundred pounds. My plans to visit an antique fair were squashed, and I was stuck in bed or on the couch. I felt lonely, sad, and disappointed, and so I turned to something that always helps me feel less alone.
If you're currently lacking the spoons to complete a multi-step exercise like my Energy Expenditure Survey & Plan, I invite you to join me in something that I find incredibly meaningful when I'm low on spoons: finding support in social media. The following Instagram accounts inspire me and help me feel less alone as a "spoonie," and I'll share with you a few posts in particular that help me feel connected when I'm seeking comfort, validation, and community.
invalid__art: I want to highlight this account in particular. It's new to me, but I am already incredibly on board with the messages. I'm navigating a new chronic illness and so I am particularly into this post: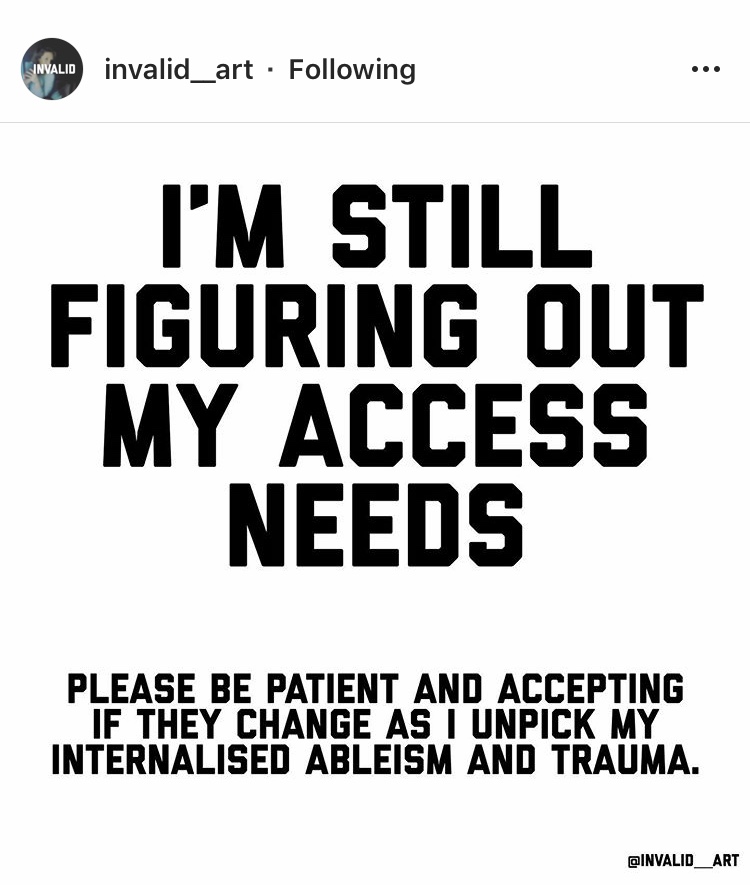 [Image description comes directly from invalid__art's post: black Block text on white background that reads "I'm still figuring out my access needs. Please be patient and accepting if they change as I unpick my internalised ableism and trauma.]
layladurrani_: This image came into my life at exactly the right time, when I admitted that my workaholism was making my chronic pain worse. Every time I see it, I am reminded that my body deserves my love.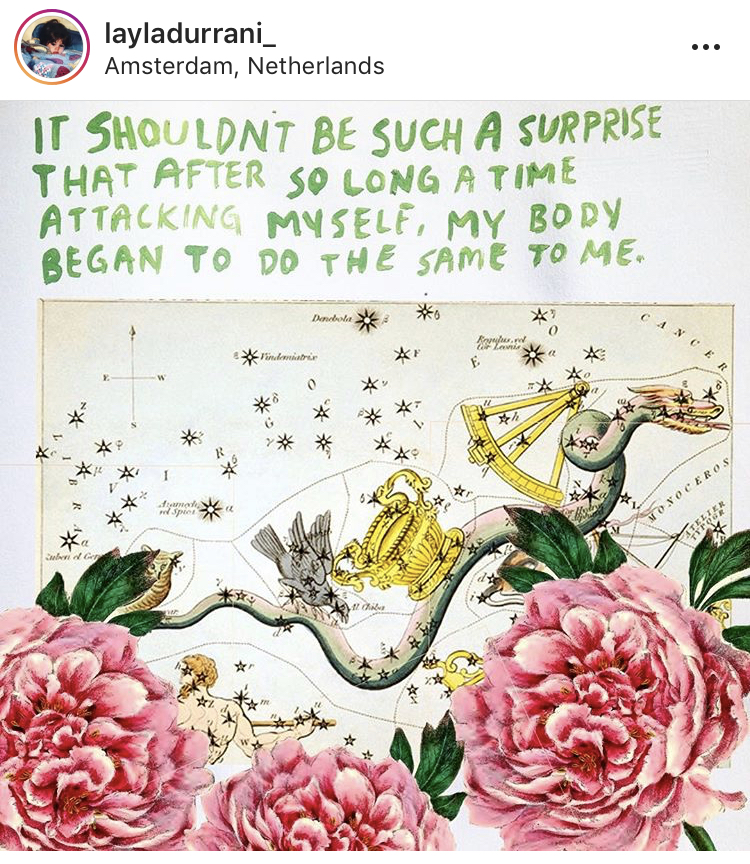 [image description: green text above an image of pink peonies and a green dragon on a map of the stars. all caps text reads "It shouldn't be such a surprise that after so long a time attacking myself, my body began to do the same to me."]
morganharpernichols: Morgan Harper Nichols's posts remind me to see the light and the grace and love in my life, and help me to feel spiritually held in my healing process. Even if you aren't a spiritual or religious person, I bet you'll feel calmed by her posts.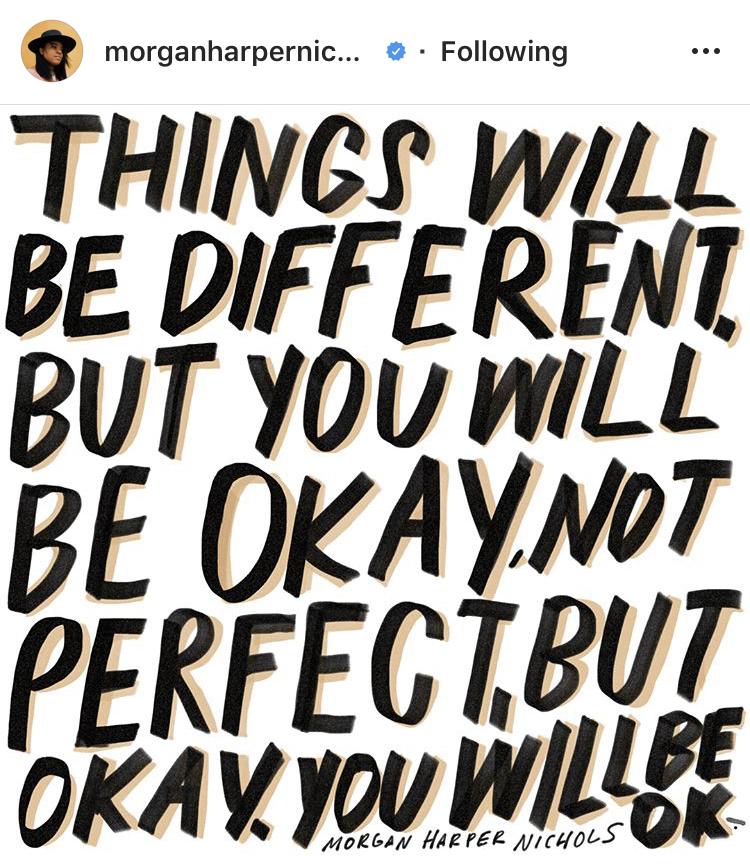 [image description: all caps bold black text with light brown shadow reads "Things will be different, but you will be okay, not perfect, but okay. You will be ok."]
cantgoout_imsick: This image brought me to tears when I saw it. I wish I had known about this account back when I felt nervous and uncomfortable about bringing my pillow to meetings. Instead, I often skipped meetings and events, or went without the aid of my pillow, which meant I was in pain.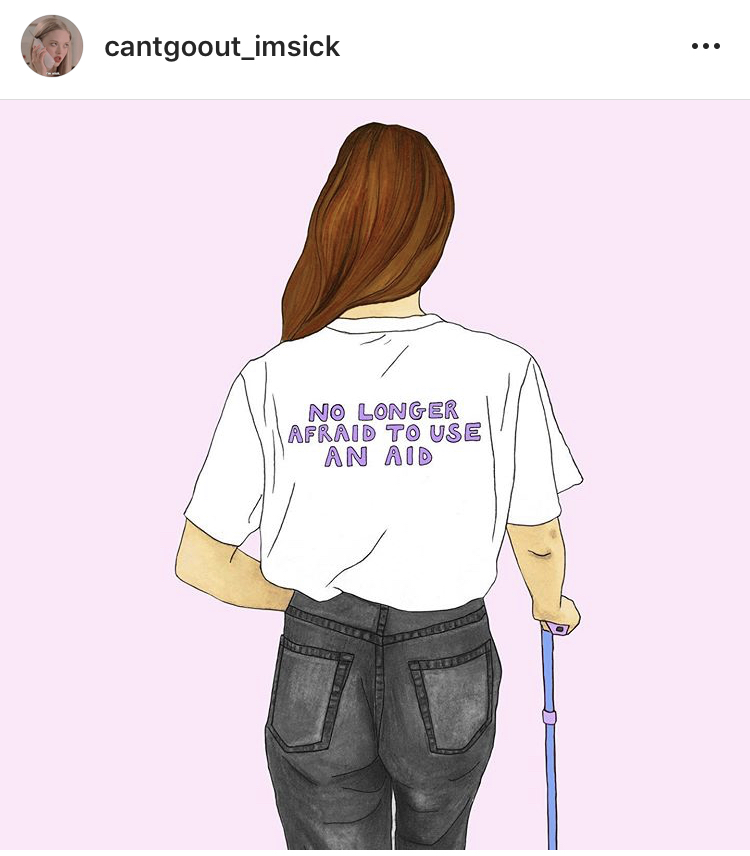 [image description comes directly from cantgoout_imsick's post: a lilac background with a figure standing with her back facing. The figure is an imagined version of myself, white skin, slim with brown hair. She is wearing faded black jeans with a white t shirt. The back of the t shirt says 'no longer afraid to use an aid' the writing is purple. She is holding a purple/blue walking stick.] 
traitspourtraits: I adore France Corbel's art and her perspectives on productivity, self love, and healing. I need to get a sticker set of these coffee pot images!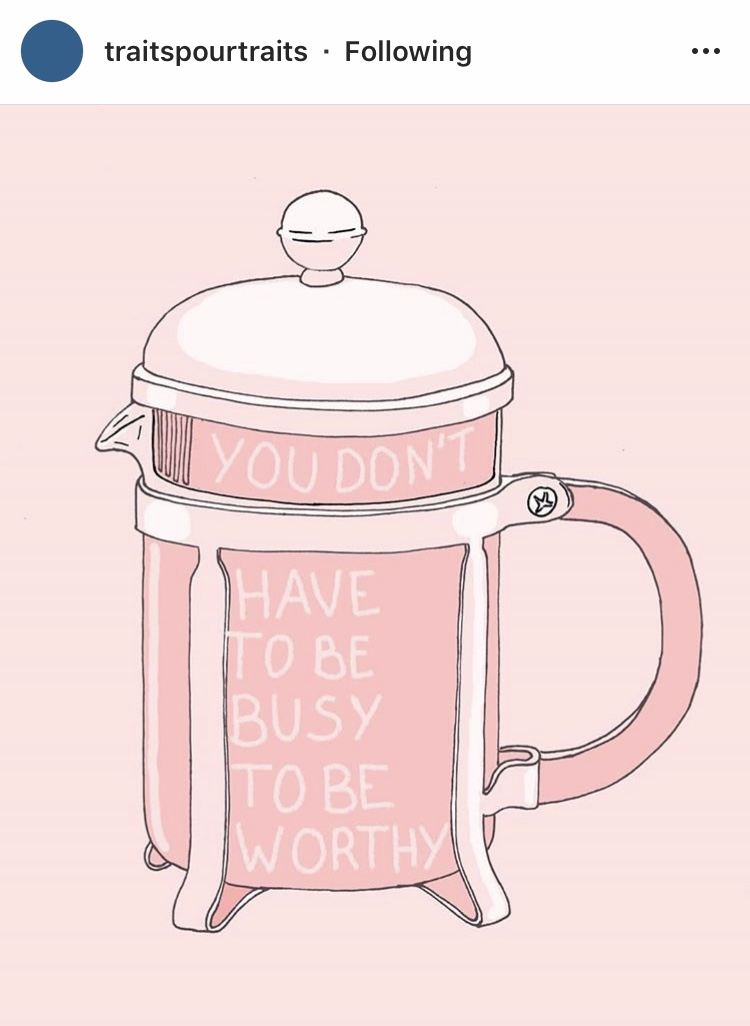 [image description: drawing of a pink French press on a pink striped background with all caps text on the French press reading "You don't have to be busy to be worthy"]
frizzkidart: I love this artist's feminist perspective on healing. This specific piece is perhaps most well known (people get tattoos of it!), but the rest of her feminist art is really inspiring, too.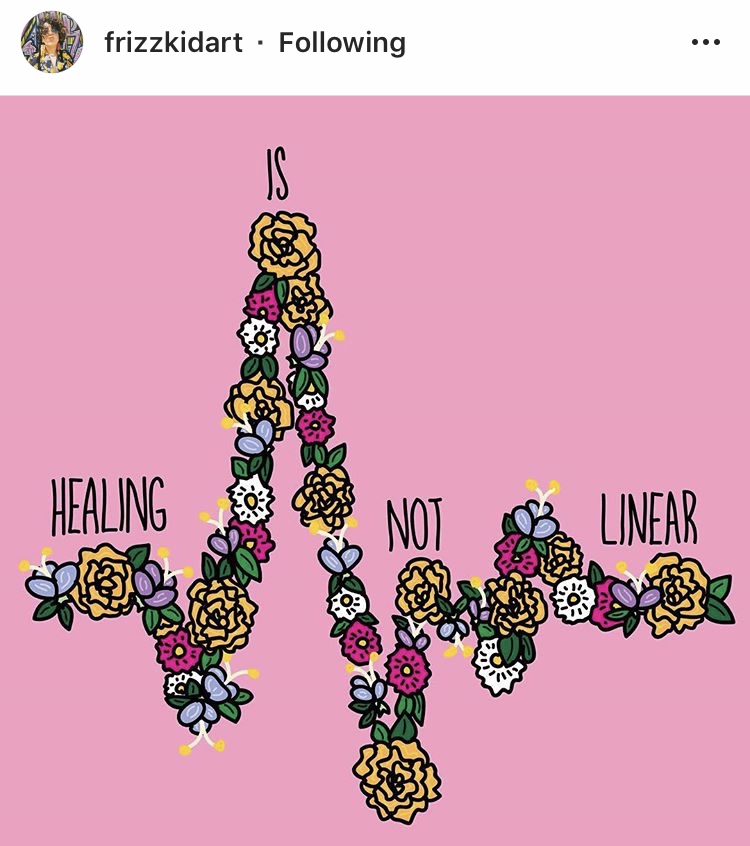 [image description: a drawing of yellow, purple, white, and dark pink flowers composing a waveform with sharp peaks and valleys on a bright pink background, the black text above it reads "Healing is not linear" in all caps]
And, finally, here are some other accounts that I love to look at when I'm feeling out of spoons and looking for support. You might find a new perspective or inspiration in them, too: