It's time to resee productivity
through a new lens of intention,
awareness, and personal growth.
You want to boost your productivity without feeling overwhelmed.

I want to give you a free habit formation guide to help you do exactly that.

Click the button below and I'll send you a guide to making real changes by building habits fueled by intention and purpose.
Hi, I'm Kate Litterer!
I'm a slowductivity coach who loves problem solving, concept maps, and anything Sherlock Holmes.
Wait, what's Slowductivity??
My approach to slowductivity is rooted my research and personal practice of slow living and productivity. I've been blogging weekly about slowductivity topics since January 2018, and I'm currently accepting new clients for one-on-one coaching sessions.
Praise for The Tending Year

 "Grad Students Beyond Grad School" (link here, excerpt below)
"Florianne Jimenez: Kate Litterer's blog, The Tending Year, has been a much-needed source of support and reflection for me this year. In her blog, Kate invites us into her journey through self-development in weekly posts that chronicle what she's reading and listening to (she loves podcasts!), how she's translating these principles into action, and how this fits into the big picture of her life as grad student, scholar, worker, partner, and community member. I love how Kate's blog speaks so eloquently and compassionately from a graduate student perspective (she digs into working multiple jobs, issues of work-life balance, and financial hardship), but at the same time, The Tending Year is also a great place for me to get some distance from the drudgery of grad school."
I've never liked the phrase "everything happens for a reason," but it wasn't until recently that I had a name for what felt so icky to me: spiritual bypassing. Psychotherapist John Welword defined spiritual bypassing in his book Toward a Psychology of Awakening as the...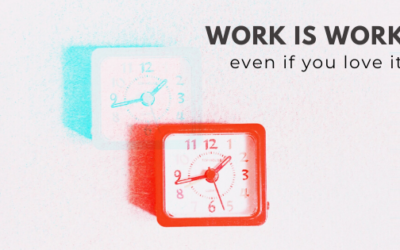 The adage "love the work you do and you'll never work a day in your life" is problematic…and pervasive.
Today's blog post complicates the idea that work we love is somehow not labor and I model some intentional steps you can take to reconsider your own approach to your work AS work.
Framing self improvement as experimentation takes the fear, shame, or sting out of trying new things, and can allow us some much needed room to grow.