Before we jump into the blog post, I want to quickly let you know that I'm currently accepting new one-on-one coaching clients who want a little extra guidance with changing their productivity habits. You can read more about my coaching practice here and book a session here. You can also download a FREE guide to habit formation and maintenance by subscribing to The Tending Letter in the pink box below this post. Thanks for your time, and enjoy the blog post! 
I'm rolling 2018's guide word "tending" into 2019 because I continue to be fascinated by its duel impetus—to tend to: taking responsibility or care of something & to tend to do: developing habitual actions or beliefs.
But, I'm also bringing in another one: garden.
Last month I had a one-on-one creative advising call with Marlee Grace. When I was drafting my intentions and goals before she called me, I thought: I want to tend my life through the metaphor of a garden.
Now, I am not a gardener, unless you count my potted purple clover that my friends Joy and Elizabeth gifted me for my first year of sobriety (going strong all these years later!), but I do love the metaphor. When I visualize the garden of my responsibilities, my goals, my practices, and my passions, I see rows of living things, all requiring tending and intention. However, I do not currently tend them equally or with the type of intention they individually deserve. Some parts of my life get tons of attention, and some are just kind of growing wild out there somewhere in the shade.
The plants in my life garden require different methods of care.
Some will need daily attention, some require me to make important decisions, some will only thrive with patience. And I want to learn this year how to tend the garden of my life well.
There are two reasons why I like using theme words:
They provide structure and limitations
I'll share a multi-post series soon about breaking down large projects, but suffice to say that murky unknowns fah-reak out my Libra Sun, Capricorn Mars self. When I'm facing a new process, any instructions or guidelines are welcome. Sometimes a structure is provided for me: write a 250-word abstract, save up X amount of money by Y date, bring a umbrella if the forecast calls for rain. But, more abstract and longer term goals—like "write a dissertation"—lack external guidelines except "finish it by 2020." Maintaining my health and spiritual practice are also broad processes, albeit such important thingsfor me to tend. Using a theme word like garden allows me to set garden-like instructions.
They allow me to resee things through a different lens
I have always loved using metaphors and visual diagrams as tools for reseeing concepts and ideas differently. (I wrote about my love for concept maps back in my 1.35 Mind and Concept Maps post.) Seeing things through the lens of a theme or a word or a metaphor allows me to see new functions and gives me practical actions to take. For example: if I am trying to be a better gardener, I need to be aware of all of the "plants" in my garden and not just obsess over tending one thing, like work or cleaning or making money.

Try small scale first.
If you aren't sure about committing to a word for your whole year yet, you can apply a theme or word to your month, week, day, or to a particular project. When you are facing something new, ask yourself:
How do I want to feel during this process?

What strengths am I bringing with me?

What do I want to learn or develop through this process?

What excites me most about this process?

What will an ideal ("good enough") outcome look like?
What will help me to feel grounded and calm if I run into bumps in the road?
Once you've answered those questions, review your answers and identify a theme, word, or metaphor that will motivate your to meet your personal goals.
To see an example of this in action, check out productivity expert Mike Vardy's reasoning and application of daily/monthly/yearly themes in his interview with Forbes, "Boost Your Productivity With Themes."
Line it up with your values
Values are the bread and butter for self development, but they are also extremely effective for focusing and boosting productivity and achieving your personal level of success. If you line your theme or word up with values, you are more likely to feel personally invested and are thus more likely to follow through.
To discover your own values, check out the list of values below (click the picture to view a larger image):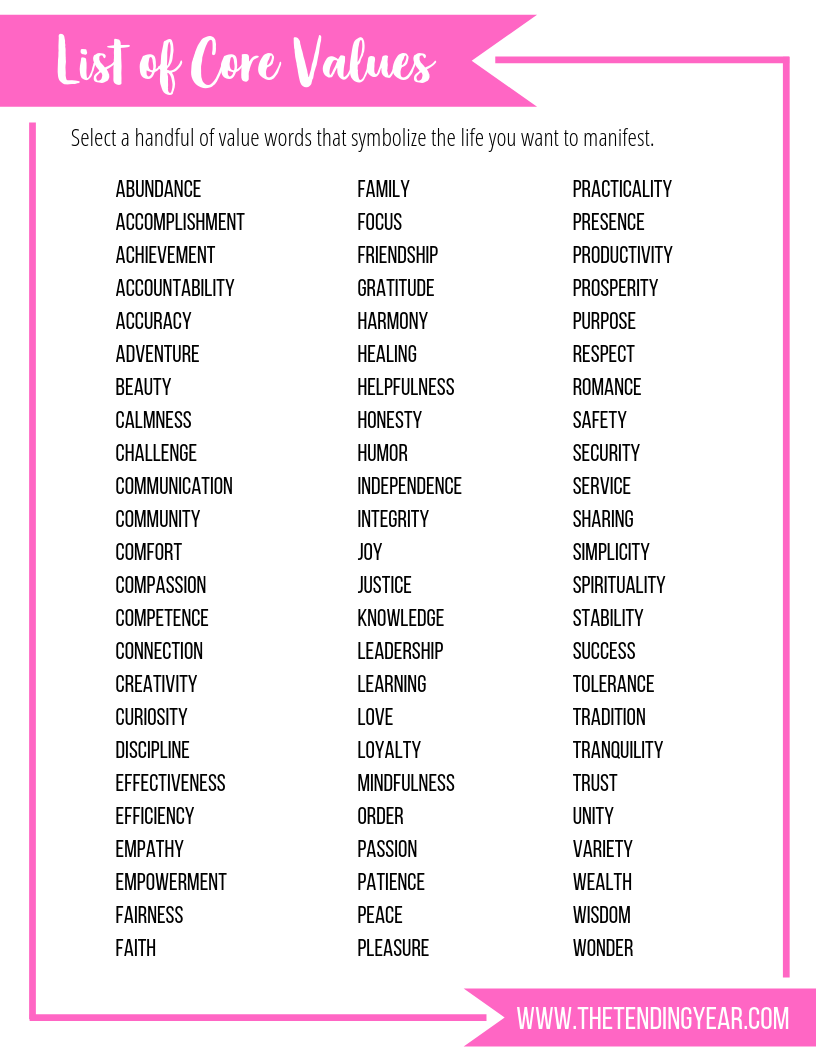 Select the values that resonate most with you, and see if any of your choices speak to one another. Do you see an overlapping theme?
For more instructions on identitfying and working with your values, check out my 1.2: Three Keys to Abundance post, Learn how to tend to your values buckets in my How I Got Clarity and Finally Turned it Over post. And connect your values to intention in my 1.27: How to Live with Intention Using Values + Presence post.
And, finally, remember to return to your theme often.
Dr. Marcia Reynolds writes in her article "Set Your Theme of the Year Before You Set Your Goals" that when you choose an annual theme ahead of time, reviewing it often can "help you make decisions or to return to your purposeful and satisfying path." She encourages those of us setting a theme for our year to reflect on our experiences of the past year and to practice being present as we decide our goals for the next.
Want to learn how experts choose their words of the year?
In her Inc. article "How to Craft an Inspirational Mantra to Use All Year Long," marketing communications expert Megy Karydes describes how she accomplished the word "goal" and why she chose the word "calm."
Author and book coach Kelly Exeter describes her reasoning behind choosing the word "Why" here and here.
Habit and human nature researcher Gretchen Rubin describes "identifying one idea, often summarized in just one word, as an overarching theme for the entire year" and talks about on her blog here and her podcast here.