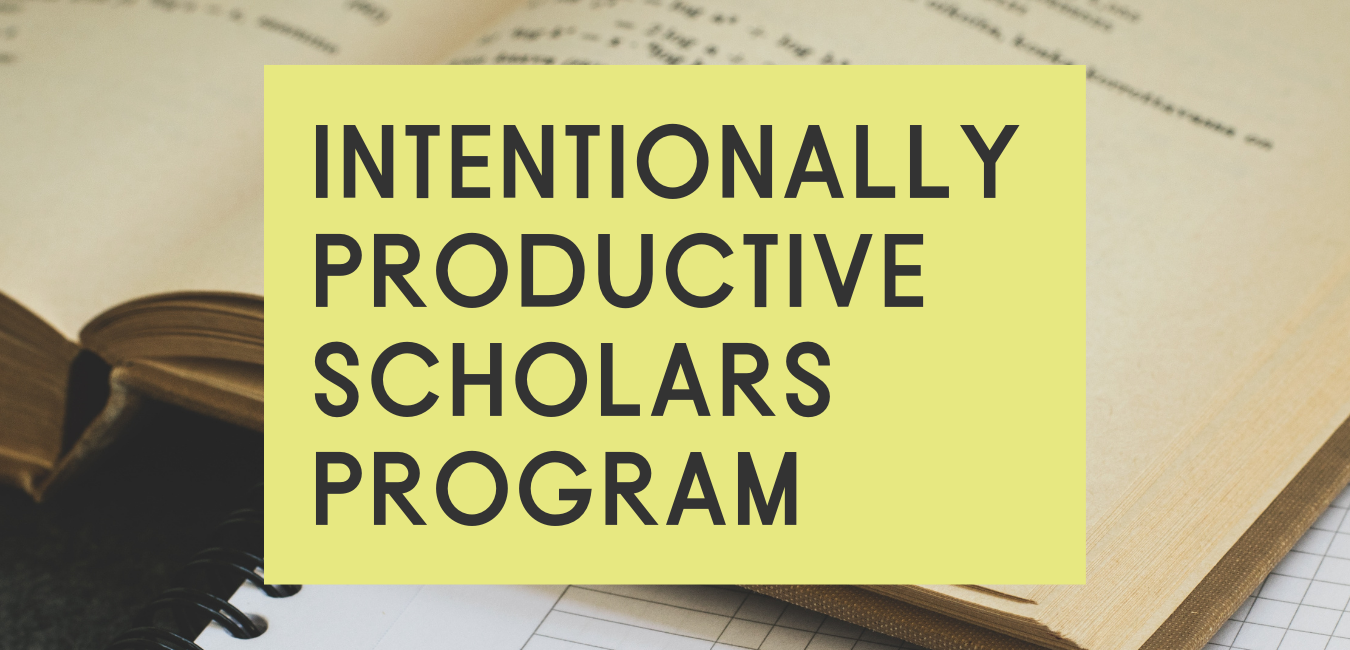 When I was in college, I was fortunate enough to participate in a Student Support Services Program that offered training on how to thrive in college and support in the form of attentive advisors and resources. I credit the individual support I received as an undergraduate scholar as the foundation for pursuing my MA, MFA, PhD, and building a career as a professional scholar, coach, and author who specializes in "slow productivity." That's why I created the Intentionally Productive Scholars Program.
The Intentionally Productive Scholars Program is an 8-week program that teaches busy undergraduate scholars specialized productivity, time management, and prioritization skills that will enable them to thrive in college, graduate school, and beyond. Scholars learn how to take action with intention so they can achieve their most important goals without burning out or feeling overwhelmed. The lessons scholars learn during the Intentionally Productive Scholars Program are directly applicable to their daily lives and will also  benefit them as thriving individuals for years to come.
Click the image below to watch a short video about the Intentionally Productive Scholars Program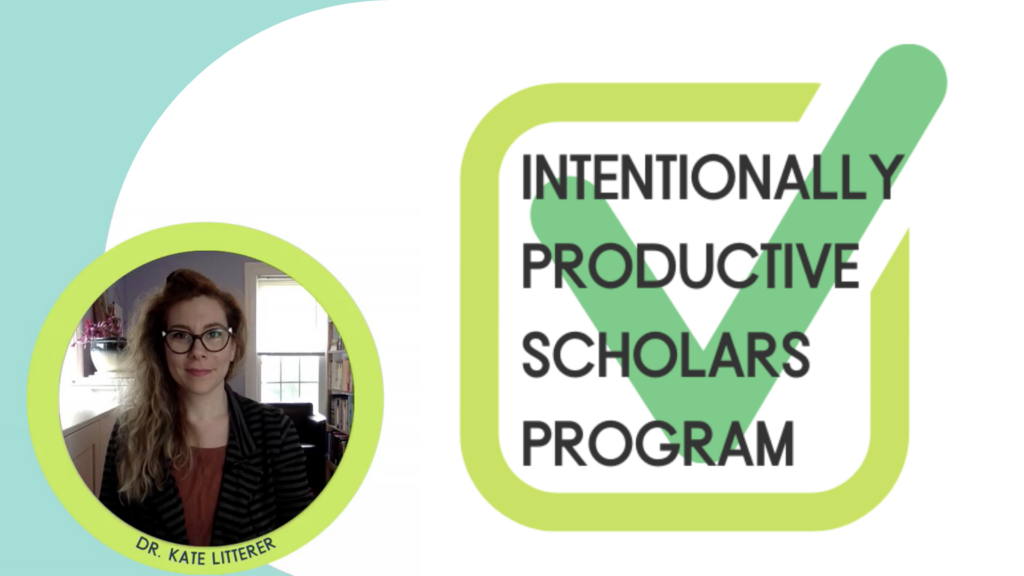 What scholars have to say about ipsp
"Your continuous dedication to being inclusive in approaches to productivity is incredible…I can't thank you enough for how much you've helped me in being adaptable in my goal-setting and work session planning." – Central Michigan University McNair Scholar
"I truly enjoyed Dr. Kate's help and advice throughout the semester. Sitting with her and discussing my weekly routine helped me realize that there are changes I need to make, especially for the sake of my own mental health. She emphasized the importance of sleep and how it contributes greatly to getting connected to my purpose, which has stuck with me ever since. She also helped me initiate a habit of not only having a routine, but also having a cue to let me know when it's time to stop and reward myself. I found her co-working session to be extremely helpful/productive, it is something that I now enjoy doing with my own friends to hold ourselves accountable. Thank you so much Dr. Kate!" – Rhode Island College McNair Scholar
"I think the most helpful thing was knowing that I had someone who would listen to my productivity tasks and give me meaningful ways to overcome those challenges." – Central Michigan University McNair Scholar 
"[IPSP] definitely took things into a different perspective for me – this program came to me at a time in my life where balancing priorities seems impossible. It reaffirmed for me self-cafe and awareness. I plan on using the time management methods for sure."  – Rhode Island College McNair Scholar
What is included in the intentionally productive scholars program?
The Intentionally Productive Scholars Program is an 8-week program that can be booked in Fall, Spring, and/or Summer semesters or quarters. It's an awesome contribution to any Summer Institute! Each season of the academic year offers particular obstacles and opportunities for undergraduate scholars, so IPSP can be booked multiple times per year for multiple cohorts.
The program includes the following:
Exclusive access to a private online community portal where scholars can easily access materials, ask questions, and share updates and reflections
One hour-long live video lesson with scholars to build community, introduce the program, with optional Q&A
Seven ~15-minute instructional videos on multiple topics
A detailed digital workbook to guide scholars through each of the lessons
Eight weekly 2-hour co-working sessions online to model accountability-based work sessions
Two 1-hour group coaching sessions
A print copy of Dr. Litterer's book Tend to It: A Holistic Guide to Intentional Productivity for each scholar
Access to 10 of Dr. Litterer's digital productivity resources (worksheets, videos, guides, etc.)
1 Live and 7 Video Lessons 
Every lesson is constructed to correspond with scholars' actual experiences of balancing coursework, jobs, community, hobbies, and graduate school research and applications. Sample lesson topics include (but are not limited to) Productivity is Not One-Size-Fits-All​, ​How to Set Actionable Goals, How to Set Achievable Goals​, ​How to Prioritize: Shifting from To-Do Lists to the Must-Do Method​, ​Intentional Time Management for Success​, ​How to Decide What to Do During a Work Session​,​ How to Measure Forward Progress to Increase Efficiency ​Without Overworking​, and ​Making Plans for Your Future, How to Prioritize Wellbeing When You're Busy, and more.
Lesson Workbook
The workbook that corresponds with each lesson will prompt students to reflect on their experiences with each topic and to answer questions that will help them develop action steps and build their own personal productivity toolkits. The workbook will lead scholars to reflect on their own approach to productivity so they can gain meta-awareness of their own habits, which will enable scholars to make action plans with intention and mindfulness.
Community Portal
Scholars will access all materials and lessons via the Community Portal. Students will be encouraged to apply the skills and tools they learn to their weekly goals and responsibilities and will be asked to post in the community portal in response to prompt questions, polls, or topics. Dr. Litterer will respond to scholar posts, ask questions to prompt critical thinking and reflection, and will respond to direct messages from scholars who have questions or things to share privately. The portal community is a key proponent of the Intentionally Productive Scholars Program, as it offers accountability and camaraderie.
8 Weekly "start the week" Co-Working Sessions
Dr. Litterer will host weekly 2-hour co-working sessions for scholars via Zoom on Monday mornings. Co-working is an excellent tool for increasing focus and productivity via external accountability and support. A 2-hour co-working session offers students 2 focused, approximately hour-long work sessions, where scholars will share what they plan to work on at the top of each hour, work for ~50-55 minutes on mute (option to leave camera on or off), and then report back on their progress.
2 Group Productivity Coaching Sessions with Dr. Litterer 
Dr. Litterer will host two separate 1-hour group video Productivity Coaching calls where scholars can receive coaching in a group setting. During these calls, scholars will be invited to ask questions and receive individualized support and coaching. Group Coaching is a good model for scholars to experience professional coaching, even if they would simply like to observe rather than be coached directly.
Copy of Tend to It: A Holistic Guide to Intentional Productivity
Each scholar will receive a print copy of Dr. Litterer's book Tend to It: A Holistic Guide to Intentional Productivity.  Through step-by-step instructions and 21 guided exercises, Dr. Litterer shares lessons on how scholars can improve their habits, goals, focus, and boundaries around work and technology.  This book will offer scholars additional guidance for developing their personal productivity practice at their own pace.
program Investment (Fall 2022 rates)
$4,000 for one 8-week program for up to 10 participants.
$4,500 for one 8-week program for 11-15 participants.
$5,000 for one 8-week program for 16-20 participants.

$5,500 for one 8-week program for 21-25 participants.
$6,000 for one 8-week program for 26-30 participants.
More than 30 participants? Let's chat!
In addition, 1-on-1 Productivity Coaching Sessions may be added for a 25% discount of Dr. Litterer's normal rate.
If you'd like to learn more about how the Intentionally Productive Scholars Program can empower your scholars, please feel free to reach out via email or to schedule a free 30-minute discovery call below.