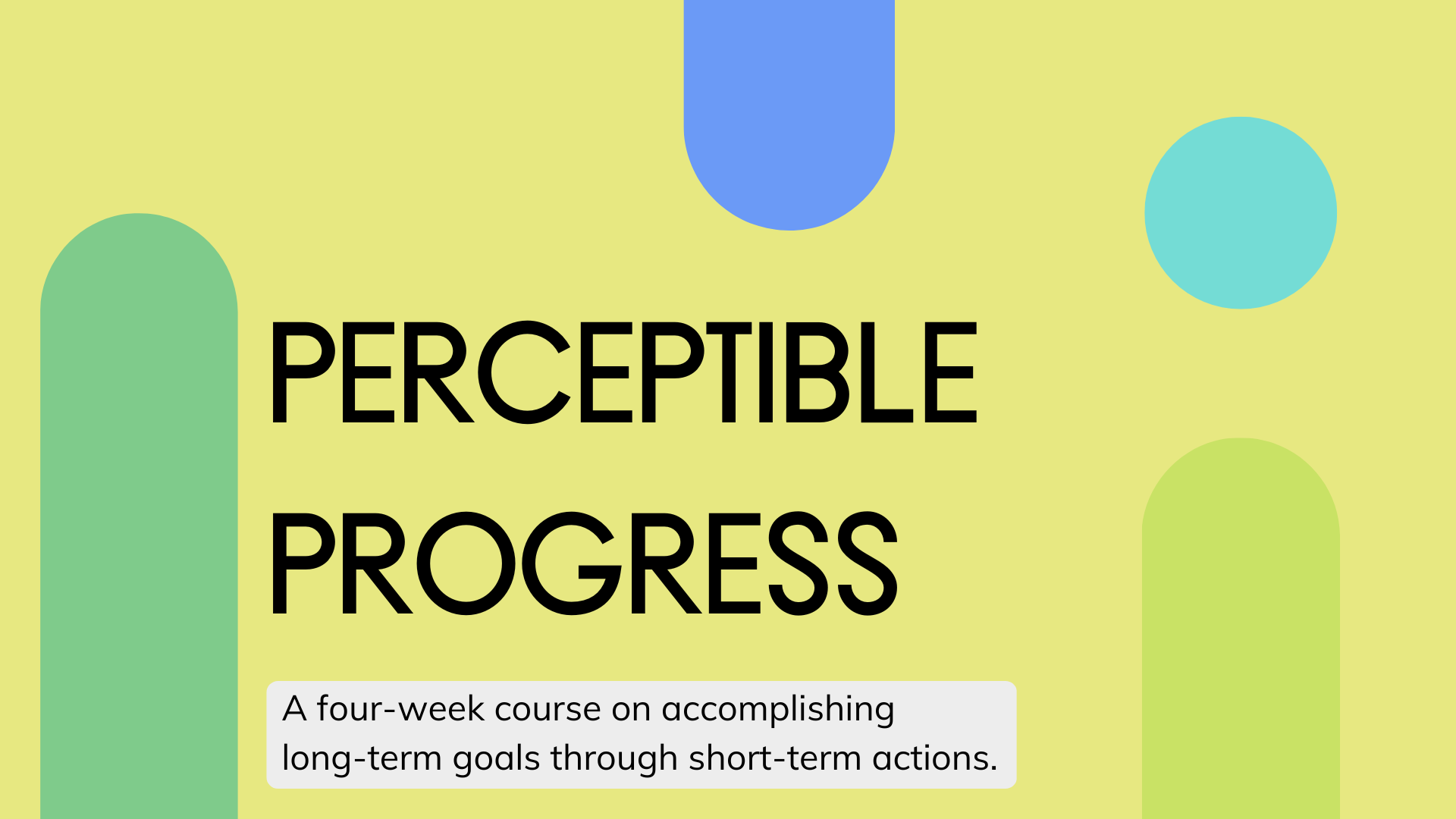 Perceptible Progress: A Goals Course
I developed Perceptible Progress because I kept encountering the same question in coaching calls and during workshops: How do I accomplish my long-term goals through my individual actions? Throughout the course, I'll guide you through clarifying your goal, creating actionable task lists, developing achievable approaches based on your individual experiences, and increasing motivation and momentum when you're trying to be productive. By the end of the course, you will have gained greater insight into making perceptible progress on your long-term, complex goals via intentional and effective productivity sessions.
Who is the course designed for?
Working on a complex, long-term goal that requires planning, prioritizing, and multiple work/productivity/creativity/action sessions? Perceptible Progress will teach help you get clear about your goal, create an actionable task list, and develop effective productivity sessions so you can progress on your goal WHILE you're taking the online course.
Does it matter what type of goal I'm working on?
While the Perceptible Progress approach is effective for scholarly and creative goals like writing assignments or art projects, you can apply it to any goal that involves multiple steps. I've used the approaches I'll teach in Perceptible Progress to succesfully write my dissertation, start my coaching business, develop movement practices, and set boundaries around my technology use. My next application of the Perceptible Progress lessons will be to developing a running habit!
What's the timing of the course? How long are the lessons?
The Fall 2022 version of Perceptible Progress will run from September 1-30, 2022. Prerecorded video lessons will be shared on Mondays. Lessons are approximately 30 minutes long, a time I intentionally chose to provide great content in a concise, actionable manner.
How will I access the course?
The course will be accessible via an online Portal. You'll have access to video lessons and office hour videos, audio recordings of the same lessons, digital worksheets, and any additional resources I share.
Each week's materials will be delivered via an online video with transcripts and closed captions that you can watch asynchronously. I'll share digital worksheets with exercises to help you apply the lessons in real time with your real life goals. I'll collect questions throughout and answer them in Q&A Office Hours videos in Weeks 2 and 4. 
Week 1: Clarifying Your Goal
In this first week, we'll ground ourselves in terms and processes for goal setting and clarify our larger goals. We'll learn how and why to root our goals in clear purposes and begin to engineer approaches that will satisfy our desired results.
Week 2: Taking Action
Once we clarify our goals, we'll make an actionable plan. I'll guide you to develop task lists, determine progress markers, and learn how to avoid common obstacles people run into with time management and prioritization.
Week 3: Achieving On Your Terms
By now, you know what you must do and why you want to do it, so it's time to think about the how, when, and where. You'll learn how to develop a personal productivity session that accounts for your personal resources (time, energy, focus, health, mood, etc.). We'll cover topics like invisible and behind the scenes labor and make your approach to your work sessions more realistic to YOU based on your personal skills, interests, and accessibility needs.
Week 4: Refining Your Approach
This week you'll learn how to refine your productivity approach to continue working on this goal or future goals after this course ends. I'll teach you how to apply my Proactive Plans and Acute Actions approach, how to generate reflection and planning prompts, how to utilize a project journal, and how to adjust your approach depending on your deadlines and personal resources. 
Cost for Fall 2022 Offering
Perceptible Progress will cost $225 for the 2022 Fall offering of the course. I am offering optional 10% or 20% discounts, too. To request the coupon code, please send me an email to thetendingyear@gmail.com. If you have any questions, feel free to reach out via my contact page.